How it Began
Exhaustive research was carried out on the property to gain a deep understanding of the nuances inherent to Culmina's Golden Mile Bench terroir.
Site Selection
Over the course of an entire year, numerous properties around the South Okanagan were evaluated before finally discovering a south-east facing site along the Golden Mile, later named 'Arise Bench.' Detailed temperature, water retention and soil analyses were carried out on the property, indicating that it shared many similarities with the best sites in Bordeaux and would be perfect for planting those varieties.
Shortly after Arise Bench was purchased, the search began for the ideal property to grow icon quality whites. Two benches located on the adjacent mountainside were selected, later named in honor of our founder Don Triggs' Mother, 'Margaret's Bench' and Elaine's Father, 'Stan's Bench.'
Before planting, detailed data was collected to map climate variations across the three sites:
Temperature Analysis: Twenty temperature & humidity loggers were installed at various positions around the site, collecting data at 30-minute intervals for over two years.
Soil Pit Analysis: Sixty-six 1 metre soil pits were dug around the property and analyzed to determine soil characteristics.
Soil Mapping: As a result of the soil pit analysis, each part of the vineyard was mapped based on soil type, soil mineral content, and soil water holding capacity.
Micro Block Mapping: Based on all of the data collected, the vineyards were divided into 43 individual micro blocks averaging only 1.25 acres in size.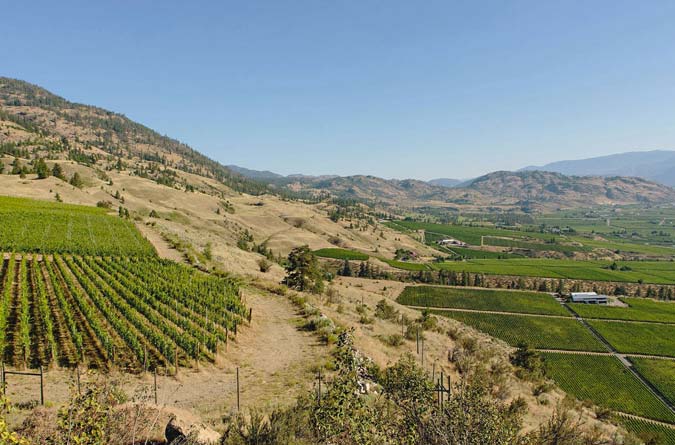 Vineyard Development
From the purchase of the property in 2007, another two years were spent preparing the vineyard sites before planting.
Soil Aeration: The soils were deep tilled and 3,500 tons of rock – enough to fill 1.5 Olympic-sized swimming pools – were removed by hand and either fashioned into stone walls or crushed into gravel to create traction in the vineyard headlands.
Fertilization: Composted cow manure was applied to enhance the organic content of the soil, and a cover crop was planted to prevent soil degradation and erosion prior to planting.
Posts: Untreated cedar end posts and galvanized steel in-line posts, chosen to avoid the drift associated with chemically treated posts, were pounded into the ground, and then straightened by hand.
Irrigation: A 'Ranch' irrigation system was installed with 2.5 valves per micro block, translating to about 1000 vines per valve. The system is managed by a solar-powered weather station that collects minute-to-minute data on soil moisture, evaporation rates, temperature, humidity, rainfall, windspeed and wind direction.
Technology for precision: The irrigation system runs on a Cloud-based mobile app, allowing the manager to water only the areas that need it, for the precise amount of time required.
Cover Crop: A Maxi-Jet below-canopy nozzle irrigation system was installed to spray in between vines and vineyard rows, allowing a cover crop to flourish. The presence of a cover crop creates another means to control vine vigor, increases biodiversity by allowing beneficial insects to thrive, and reduces the amount of irrigation water required.
Planting: Culmina's vineyards were planted with narrow rows and at a density significantly higher than average to increase competition between vines and force root systems deeper into the sub-soil for water and nutrients. The vines were also planted in a diamond pattern, with each vine positioned equidistant from one another to maximize the vines' root development and health.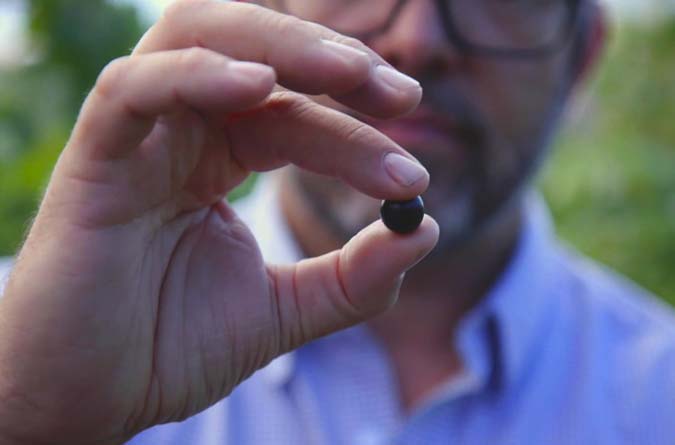 "The idea from the beginning was about precision" – Jean-Marc Enixon, Winemaker