October 6, 2022 | Culmina Winery
Another Gold Medal for Unicus at WineAlign NWAC!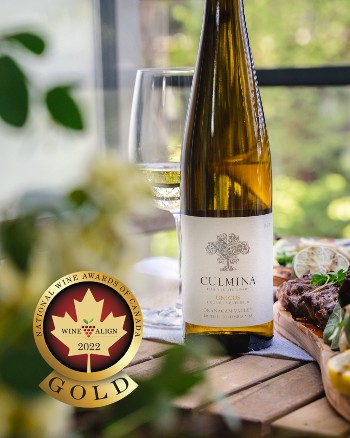 Culmina is once again delighted to have taken home several awards from the WineAlign National Wine Awards of Canada.
Among the award winners is our 2021 Unicus Grüner Veltliner, which joins its previous vintage as the recipient of a prestigious gold medal, earning a top score of 92 points.
As Unicus grows in popularity, we feel privileged to become known as one of the top producers in Canada of this well-known Austrian varietal.
"A captivating acid backbone, marked concentration and delightfully tactile texture here."
- Elsa MacDonald, MW -
"Medium bodied, fairly rich, dry and intense with a terrific acid core. The length is excellent to outstanding. Very much worth an exploration."
- David Lawrason -
---
Other wines awarded were:
2018 Dilemma Chardonnay (91 Points, Silver Medal)
"The palate is quite creamy, with nice weight. It has a dry, fairly long finish, with good balance." - Craig Pinhey
2019 Syrah (90 Points, Silver Medal)
"Powerful black fruit - fennel/black licorice, black currant, mulberry, India ink and iodine." - Evan Goldstein, MS
2017 Hypothesis (88 Points, Bronze Medal)
N° 013 Orange Gewürztraminer (88 Points, Bronze Medal)
N° 017 Blanc de Franc (88 Points, Bronze Medal)
N° 018 Süsser Riesling (88 Points, Bronze Medal)
Comments