June 15, 2021 | Culmina Winery
Large Formats of 2016 Hypothesis & 2020 Saignée Now Available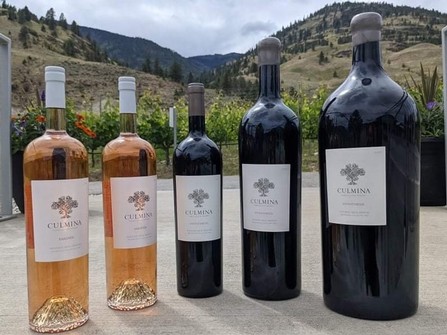 For gifting, cellaring or just a fun gathering with friends, nothing makes an occasion special like a large format bottle.
2020 Saignée 1.5L Magnum ~$52
Our much loved rosé is the perfect addition to any meal or occasion. In a magnum size, it's the ideal wine to break out for a casual evening with friends or an weekend gatherings.

2016 Hypothesis
Each large format of Hypothesis is packaged in a custom made pine box.
1.5L Magnum ~$119 (only 100 produced)
3L Double Magnum ~$295 (only 24 produced)
6L Imperiale ~$575 (only 12 produced)

Hypothesis represents the culmination of our efforts to create an icon quality wine from select micro blocks on our Golden Mile Bench estate. Each collectible large format bottle of Hypothesis is an age-worthy addition to any wine cellar.

Any orders over $200 containing a large format of Saignée or Hypothesis will receive complimentary shipping.
Comments