June 7, 2023 | Culmina Winery
More Awards for Culmina at Decanter 2023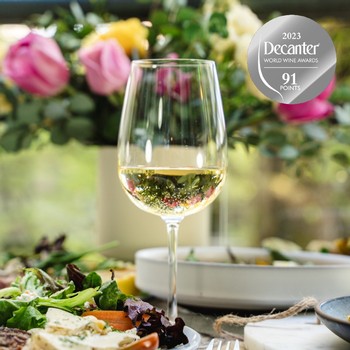 "Pretty nose of orange blossom, apricot and honeysuckle, palate of stone fruit, citrus, vanilla and a tancy lemon acidity"
~ 91 points
We are happy to share the news that our first ever vintage of Viognier has received a silver medal at the prestigious Decanter World Wine Awards in London. With over 18,000 entries from 57 countries, Decanter is both the world's largest wine competition and also one of the most ciritcally acclaimed.
One of only two Canadian Viogniers to be awarded, this small lot production wine is available exclusively to Culmina wine club members and is now nearly sold out. Sign up today to claim one for your cellar before it's gone!
---
Other wines awarded were:
2019 Malbec (89 points - Bronze)
"Rich, inviting nose of coffee, licourice and blackberry, palate of black pepper, herbaceous notes and bright acidity"
2017 Hypothesis (88 points - Bronze)
"Floral and herbaceous, with blackberry and bell pepper, palate of stewed dark fruit, espresso, toast and black licourice"
2021 Unicus (88 Points - Bronze)
"Pretty nose of white pepper spice ad herbaceous notes, palate of lemon curd, lemon anf flint"
2018 Dilemma (87 Points - Bronze)
"Creamy brioche nose with hints of candied lemon, opulent palate of butter, almond, apple sauce and subtle oak"
Comments