May 26, 2022 | Culmina Winery
#chardcore – A Taste of Spring with Dilemma!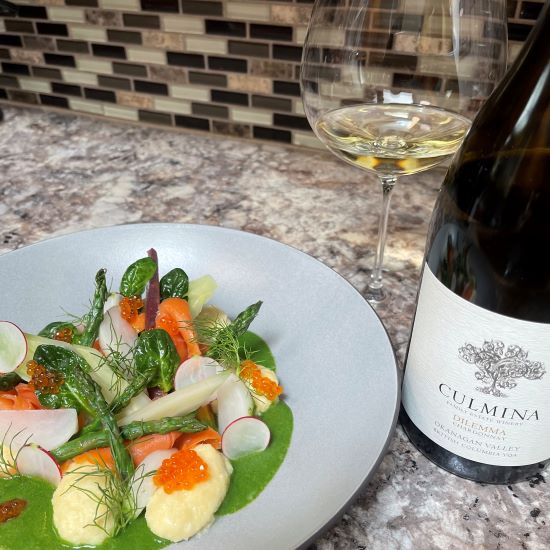 In honour of National Chardonnay Day, we've partnered with Chef Derek Bendig to create a delicious springtime recipe that pairs perfectly with our critically acclaimed Dilemma Chardonnay.
Chef Derek has a rich culinary history, including time spent at the renowned James Beard House in New York, the Fairmont Chateau Whistler, The Josie Hotel on Red Mountain, and coming soon - Wild Blue Restaurant in Whistler. Having completed WSET Level 4, he is an expert in food and wine pairing, and focuses on classic French and European presentation using local west coast, seasonal ingredients.
---
Recipe: Gnudi with Smoked Trout and Spring Vegetables
Ingredients for the Gnudi:
1 cup fresh ricotta cheese, drained
1 cup finely grated parmesan cheese
2 eggs plus 1 yolk
Grated nutmeg to taste
2 Tablespoons chopped dill
4 cups semolina flour
½ cup all-purpose flour
Salt and pepper to taste
Vegetables for the dish:
4 Tablespoons peas, English, snap, or both
1 bulb of fennel, cut into small wedges
4 small salad turnips quartered, leaving the greens in place
8 asparagus spears, cut into 5 cm lengths
3 radishes, finely sliced
1 oz baby spinach
For the Sauce:
¼ cup fennel, diced
¼ cup leek, diced, white part only
¼ celery, diced
¼ cup dry white wine
½ cup fish stock
4 cups spinach
Lemon zest to taste
2 tbsp butter
Salt and pepper to taste
To Finish:
Smoked trout, thinly sliced
Fennel sprigs

Trout caviar (optional)
To Prep:
1. The day before serving make the Gnudi:
Combine the cheeses, eggs, nutmeg and dill together and mix well with a whisk, season. Fold in the all-purpose flour until combined.
Shape the Gnudi - In a large flat container, line the bottom with one centimeter of semolina flour. You can roll into balls with lightly floured hands and place on the semolina. Or use a large spoon and level off the mixture, then using a floured finger push the mixture off the spoon into the semolina (this will create a rough quenelle shape). Make sure the gnudi are not touching and when you have 1 layer complete, cover the gnudi completely with semolina. You can make another layer on top and again cover completely with the semolina. Cover and place in the refrigerator overnight. This will create a crust around the gnudi so that it holds its shape when cooking.
2. Prep and blanch the vegetables for the sauce (reserving the spinach) in salted water, shock in ice water.
3. Add some butter to a saucepan. Sweat the vegetables in the butter with some salt and pepper. Once softened, deglaze with the wine and reduce. Add the fish stock and bring to a boil. Place everything into a blender, add the spinach and puree until smooth, adjust seasoning and consistency. Strain through a fine strainer.
To Finish:
Remove the gnudi gently from the semolina and bring to room temperature. While they are coming up to temp put a pot of salted water on the heat and bring to a boil. Sweat the vegetables in a little olive oil and butter to warm through. Heat up the sauce in a small pan and add 2 tbsp of butter and whisk in. Do not bring to a boil, just warm the sauce through. Cook the gnudi in boiling salted water until they float (about 1 minute).
Place the sauce in the bottom of a bowl, arrange the gnudi and garnish with the vegetables and smoked trout. Add fennel sprigs and baby spinach as additional garnish and spot with trout caviar. Serve immediately.
Comments