April 3, 2023 | Culmina Winery
Earth Month 2023: Culmina's Salmon Safe Certification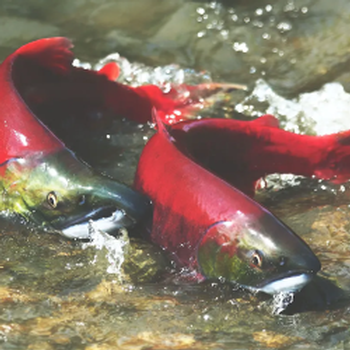 "Salmon is the canary in the coal mine.
It's the indicator of how healthy a watershed is."
David Burger, Executive Director
Stewardship Partners
Salmon Safe Partner
---
Wild Pacific Salmon have played an important role in the health and heritage of Okanagan waters for centuries. There are 5 species that can be found in British Columbia: Sockeye, Chinook, Coho, Pink and Chum.
It is estimated that 90% of the world's wild Salmon have disappeared. Factors that are negatively impacting this endangered population include climate change, habitat degradation, land and water pressures, and major events such as landslides. Since the majority of remaining Wild Pacific salmon live in British Columbia and the Pacific Northwest of the United States, it is imperative that growers work together to preserve delicate West Coast watersheds.
To this end, since 2015 Culmina Family Estate Winery has been one of over 350 vineyard operations to acheive Salmon Safe certification. The Salmon Safe program focuses on reducing vineyard runoff through the use of cover crops, water quality protection by using natural methods to control weeds and pests, and the enchancement of native biodiversity on vineyard sites. The certification must be renewed every three years, so in 2018 improvements were made to our steepest vineyard sections on our high elevation Margaret's Bench. Irrigation was extended to ensure sufficient moisture supply to all parts of our cover crop, and hay bales were used along the mountain side to stabilize it and reduce further erosion.
Our continued efforts in this endeavour are just some of the ways that our vineyard team works every day to protect our valuable ecosystem and unique terroir.
Learn more about Salmon Safe here.
Comments