September 1, 2021 | Culmina Winery
Our Vineyards are Now Certified Organic!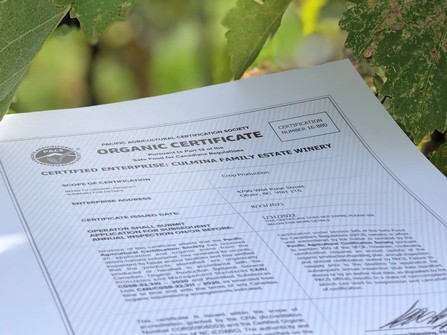 We are pleased to announce that a long-awaited milestone has been reached! After thoroughly reviewing our viticultural processes, the Pacific Agriculture Certification Society has awarded us our organic certification, as of August 2021.
Our organic certification is a continuation of the vision of our founders. The Triggs family founded Culmina Family Estate Winery with the intention of crafting iconic wines that are expressive of our unique terroir. Organic farming has proven to be a valuable tool in our realization of that objective.
It is the ongoing goal of Culmina Family Estate Winery to be a responsible steward of the land we are entrusted to care for. Our certification marks the end of a ten step, 3-year transition to fully organic viticulture.
We are pleased to have already seen many benefits from the gradual shift to organic practices. Using organic matter to fertilize, rather than relying on synthetic products has resulted in healthier soils with a more balanced nutrient profile. As the soils continue to improve, we will expect to reduce our reliance on irrigation and build the resilience of our vineyards. We look forward to continuing to grow and thrive as we embark upon this new chapter.
"To respect the terroir is a challenge every day with the heat, the long days, the rocky soils; but it is what gives us our unique expression."
Jean-Marc Enixon, Winemaker
Comments