May 9, 2023 | Culmina Winery
Out with the Old, In with the New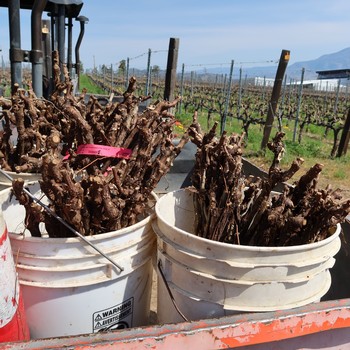 As we welcome Spring 2023, there have been some exciting new developments in the vineyard.
In recent years, Culmina's Syrah has been subject to a virus known in French as 'dépérissement' or, more commonly, "Syrah Decline". This is a common ailment that occurs in nearly all wine regions and effects the vine's ability to successfully carry out photosynthesis. Because of this, the decision was made to remove our Syrah vines last spring. The soils were left to rest with a cover crop for one year, and have just been replanted with 4.2 acres of Cabernet Sauvignon.
Since we are continually determining how to best express our terroir, this block has been divided into six microblocks, each planted with a different combination of clone and rootstock not previously grown here at Culmina: 169/Schwarzmann, 169/1616 Couderc, 169/RS-3, 337/1616 Couderc, 412/1616 Couderc, and 1125/1616 Couderc. Of particular interest are the newly developed rootstock RS-3 and clone 1125, as well as the extensively used 1616 Couderc, which has proven to be resistent to nematodes (commonly known as roundworms).
The location chosen for this new planting is ideal for Cabernet Sauvignon, with warm, rocky, free draining soil that is not shadowed by the mountain. It is being watered by 6 valve irrigation, which allows for greater precision, depending on the moisture demands throughout the course of the growing season. By Okanagan standards, it is planted at high density, with 2040 vines per acre. This is done to increase competition between vines, forcing deeper rooting and greater site expression.
We expect to be able to begin using the fruit from our new vines after three growing seasons, with 2026 being its first vintage. We are eager to explore this expanded production of Cabernet Sauvignon, both as a single varietal and as part of our ciritcally acclaimed Hypothesis. Under the careful guidance of winemaker and vigneron Jean-Marc, it is sure to be a success.
Comments