January 18, 2022 | Culmina Winery
Recipes From Our Winemaker: Jean-Marc's Bœuf Bourgignon à la Okanagan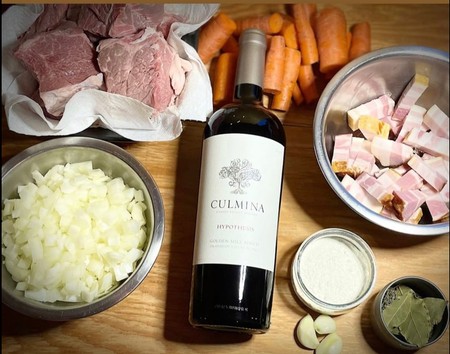 Simple elegance for those who love to cook and share good food, wine, and laughter with friends. Perfect for cozy winter evenings spent with those you care about.
Ingredients:
1kg Beef Chuck
2 Onions
3 Cloves Garlic
4 Carrots
200g lardons (or substitute Pancetta)
2 x 750ml Bottles of 2016 Hypothesis
1L Sparkling Water
75g Flour (about ½ cup)
15-30ml Canola Oil
2 Bay Leaves
Few Sprigs Thyme
Salt and Pepper to taste
Optional: ½ Kg Potatoes, peeled and quartered
Instructions:
Start by cutting the beef chuck into 6cm cubes. Place in a medium sized bowl and cover with the sparkling water. Let sit for 1 hour.
While the beef is soaking, prepare your vegetables. Dice the onions and cut the carrots into 5cm pieces. Dice the lardons.
When the beef is finished soaking, remove from the water and dry thoroughly with paper towel.
Add canola oil to a large, heavy-bottomed pot and heat to high. Once oil is very hot, add beef chuck and quickly sear on all sides. Remove the beef from the pot and set aside. Reduce heat to medium.
Add lardons to the pot and sauté for 1-2 minutes to allow the fat to render. Add onions and sauté for 1 minute. Add carrots and mushrooms, season with salt and pepper, and sauté for 1 minute.
Add flour to the pot. Stir to coat vegetables thoroughly, and constantly to avoid sticking.
Open your first bottle of Hypothesis. Take a taste to make sure it is good but be careful not to drink the whole bottle! You still need it.
Add a little bit of wine to the pot and stir to deglaze, scraping up any brown bits from the bottom.
Add the beef back to the pot and pour over the rest of the bottle of wine. Stir and season with salt and pepper. Add the garlic, bay leaves and thyme sprigs.
Simmer for 2 hours. If adding potatoes, add after 90 minutes.
Remove bay leaves and thyme sprigs.
If you haven't included potatoes - Serve over fresh pasta, rice, or mashed potatoes.
Pair with your second bottle of Hypothesis and share with your friends and family.
Share a photo of the finished product on social media and tag us! @culminawinery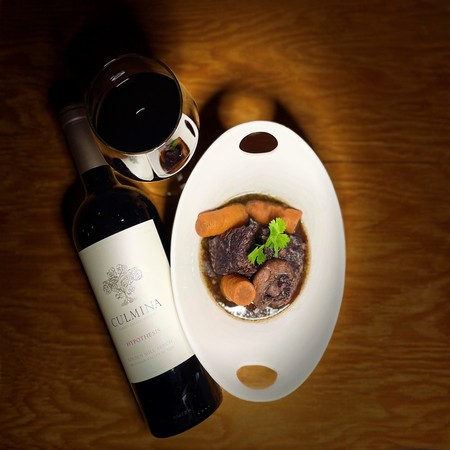 Comments