February 16, 2022 | Culmina Winery
What Is Happening in the Cellars: Racking – Essential for Precision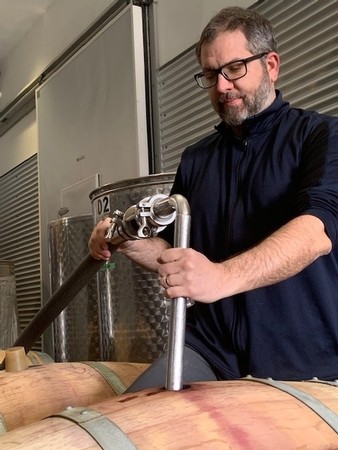 When the vineyard is covered in snow, things are heating up in the cellars!
Winemakers Jean-Marc and his assistant Alison are busy at work on our 2021 Vintage and are currently in the process of "racking". Contrary to what the name may imply, this has nothing to do with wine storage! Instead, it is a vital part of our process to create wines of the ultimate quality. There are different ways to rack, and as always, we strive for excellence in all of our processes.
Racking refers to the transfer of wine from one vessel to another. Initially we rack from fermentation tanks into barrels, leaving behind the lees (dead yeast remnants), skins and seeds, and other debris that has settled to the bottom of the tank. The wine then sits in the barrels for 4 weeks while it completes it's secondary fermentation, malolactic fermentation. This naturally occurring process converts malic acid into lactic acid – very important for stability and a smooth mouthfeel.
Next, it is temporarily transferred out to allow for the barrels to be cleaned and immediately transferred back into the same barrels. This is an extremely crucial part of the process, and it has a direct bearing on the quality of the finished product. While some wineries choose to transfer their wines into different barrels at this point, Jean-Marc and his team put forth a significant amount of effort to ensure that the wines remain with the barrels that they started with. It is a gentle, gravity led transfer, without the use of pumps, therefore avoiding unnecessary oxygenation.
We feel that this is a crucial measure for quality control because all barrels are not the same, and the choice of barrel can greatly impact the wines.
There are three main factors to consider when choosing a barrel:
The Barrel Maker (cooper)
The Place of Origin – All French Oak barrels come from four strictly regulated forests in France, and the characteristics can vary greatly, depending on which region it is sourced from.
The Level of Toast (the interior of the barrel is heated over open flame to allow it to be shaped)
Choosing to keep the wines in their original barrel provides a more precise level of control over what is intended for the final product. Our winemakers go to great lengths to determine which barrels will produce the best quality wines from our unique terroir. The result is one we can all be proud of – great wines that reflect precision every step of the way.
Comments